Barry Fraser was Vice President of the Port Maitland On The Grand Historical Association. Link to Barry's obit.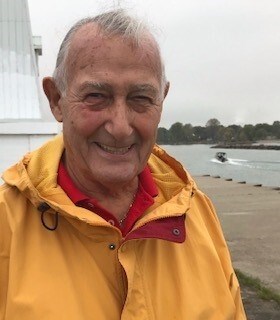 (June 7, 1940 – April 22, 2021) It is with deep sadness that we announce the passing of John Barry Fraser who left us peacefully in his home surrounded by his family and a few close friends early Thursday afternoon. Barry was predeceased by his beloved wife Margaret Fraser and daughter Lauri Rossetti (Ralph). Survived by his daughters Wanda Summerfield (Allan) and Leanne Fraser. Grandchildren Sarah, Melissa (Eric), Lindsay (Steven), Alexis, Jonathan (Starr), and Jordan. Great-grandfather to Alyssia, Matthew, Niko, Lukas, Jessika, Avery, Jordan and Jaxon. Beloved brother of Terry Fraser. Predeceased by his sisters Deanna, Noreen, Patricia and brother Michael. He will be deeply missed by his long-time friends Royce Arnold, Sam Hammond and Aldo Casen. Barry was a true Hamiltonian spending most of his life in the Bartonville area.
In his later years he fell in love with the history and tranquility of Port Maitland where it became his home away from home. He put many years of work into both the home and the community and served on the Port Maitland Historical Society. Barry was involved in social justice and the Trade Union movement his entire working life. He held many positions including Job Steward, Business Manager of Local 105, International Brotherhood of Electrical Workers, President of the Hamilton Building Trades Council, President of the Ontario Provincial Building Trades Council and Staff Representative of the Canadian Labour Congress. He was well known across Canada and always identified with the militant and most progressive forces fighting for social justice, peace, and socialism. Barry served many years as President of the Royal Harbour Resort in Thornbury after working tirelessly to restructure it from a failing business to a sound and successful enterprise.
Barry's accomplishments and contributions are far too many to list. But one can be assured there were many. Barry had an infectious smile and a way with words. He loved to tell stories and educate people. He was always available to lend a helping hand to anyone who needed him. Cremation has already taken place. Due to the COVID-19 restrictions there will be no service at this time. In lieu of flowers please consider donating to the Juravinski Cancer Centre or to the Mesothelioma Research Society. The family would also like to thank the Hamilton Palliative Care program and VON for their assistance the past several months while Barry was being cared for in his home. Any condolences to be shared with the family can be emailed to wandasummerfield@gmail.com. "The loss is immeasurable but so is the love left behind. Forever in our hearts you will remain."